Martedì 24 settembre 2019 alle ore 19.00 la Fondazione Pastificio Cerere presenta Objects and Sounds, la prima mostra personale in Italia dell'artista finlandese Jonna Kina, a cura di Manuela Pacella.
Il progetto è patrocinato dall'Ambasciata di Finlandia a Roma ed è stato reso possibile grazie al Project Grant 2019 di Frame Contemporary Art Finland e al sostegno di Finnish Cultural Foundation e Arts Promotion Centre Finland.
Nucleo principale della mostra è Arr. for a Scene, corto girato in 35 mm, i cui protagonisti fanno parte di una categoria artistica che oramai da un secolo agisce di nascosto, per rendere il più veritiera possibile la nostra percezione della realtà cinematografica, ossia i rumoristi, in inglese Foley artists, in omaggio allo statunitense Jack Foley, pioniere degli effetti sonori nel cinema. Gli oggetti usati dai rumoristi, spesso assurdi e del tutto lontani dal rumore che riproducono (ad esempio dei palloncini gonfiati possono eseguire il tubare dei piccioni), sono oggetto di una serie di fotografie di Kina, datate al 2013, Foley Objects, di cui una selezione è presente in mostra.
E che il suono sia il protagonista indiscusso della mostra – rumoroso, silente e scultoreo – lo si evince anche dal trittico Score of Arr. for a Scene (2017) in cui Kina, sotto la guida del compositore Lauri Supponen, ha dato forma visiva su carta a quegli stessi rumori creati dai protagonisti del film.
Sono previste attività didattiche che si svolgeranno in collaborazione con RUFA – Rome University of Fine Arts.
2.Jonna_Kina_Arr_for_a_scene_2017_5min_18sec_35mm_film_transferred_to-HD_color_sound_2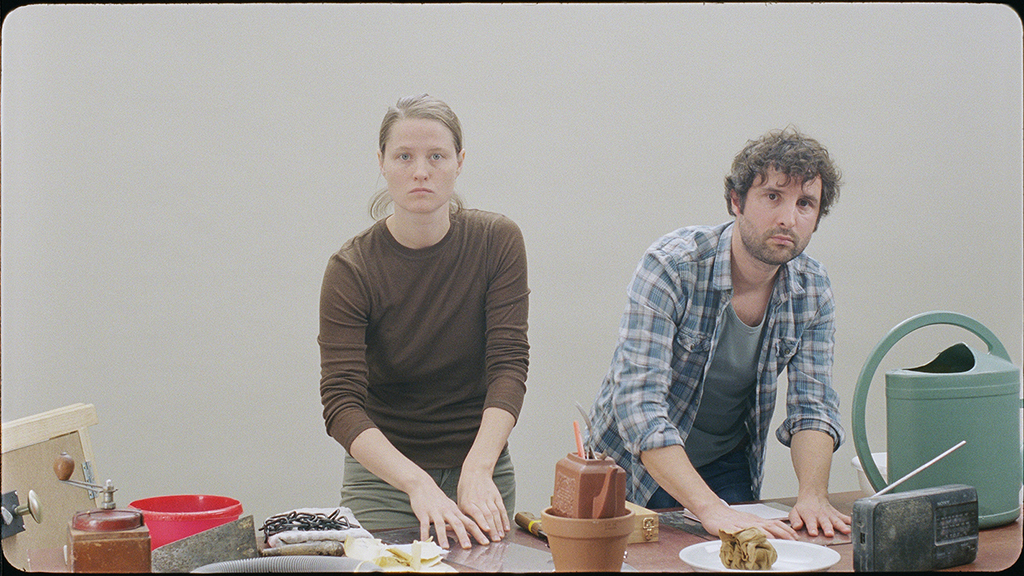 Immagine 1 di 13
Jonna Kina, Arr. for a Scene, 2017. 35 mm film transferred to 4K/HD, 5min 18 sec, stereo / 5.1. Video stills. Courtesy of the artist